Posted by juliac in Articles, Featured | 1 Comment
Barrel Aged Brew: Remembering Firestone Walker 15
While visiting a good friend recently, I spotted a lone Firestone Walker 18 chilling in the fridge; luckily, I didn't need to twist any arms to get my pal to open up this revered beer and share it with me.  Complex and down right delicious, I was instantly reminded of an evening several years ago: David Walker (owner of Firestone Walker Brewing Company) sat down with me at a local pub while he was here promoting the recently released Firestone Walker 15 – he talked about the brewing process and all that was involved to create a brew that displayed characteristics like none other.  Here's the article I wrote shortly after our meeting:
I recently sampled my first ever barrel aged beer, Oakshire's Hellshire II.  The intense bourbon, vanilla, coffee and caramel flavors of the Hellshire II urged me to explore the world of barrel aged beers, so I later attended the Winter and Strong Ale Fest at 16 Tons where I discovered a world of international and domestic beers packed with flavors from ginger, nutmeg and cinnamon, to fig, molasses and caramel; hence, the beginning of my love affair with barrel aged beer.
One of the beers I sampled during the Winter and Strong Ale Fest that had me seriously intrigued was Firestone Walker 14.  Complex flavors of brown sugar, maple syrup, dark chocolate, cherry and coffee flourished, and I was instantly hooked.  I took home a bottle of Firestone Walker 14, and inside the box that the bottle was housed in was a note from Firestone Walkers Brewmaster, Matt Brynildson.  Included in the note was a brief history on their barrel aged specialty brews:
"Since founding our brewery in 1996, we have specialized in the rare art of brewing beer in oak barrels.  In the fall of 2006, we released a limited edition oak-aged strong ale called 10 to commemorate our 10th anniversary.  The experience was greater than any of us could have ever imagined.  We now present 14, our fifth release in what has become an autumnal rite at our brewery."
The note continued with information regarding the production of their 14th anniversary beer, and I learned that this beer not only had brewers involved, but winemakers as well.  Five winemakers from the esteemed Paso Robles wine region used their blending expertise in a single blending session of six different Firestone Walker beers.  The finished product is a beer that deserves to be served in a wine glass, and I truly enjoyed every sip of its complex goodness.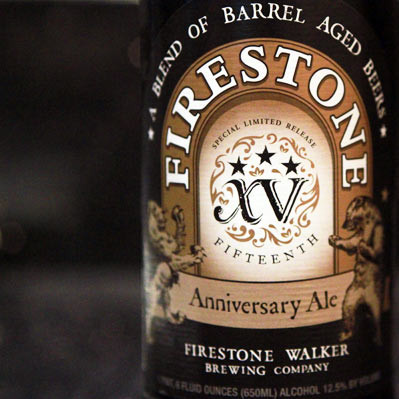 When I heard that Bier Stein was having a release party for the highly anticipated Firestone Walker 15, in addition to a partial tap takeover of other Firestone Walker beers, I marked my calendar and called my beer enthusiast friends-it was a date.
When we arrived at the Bier Stein, it was elbow room only, so we got in line to order a glass of the Firestone Walker 15.  With the purchase of the Firestone Walker 15, we also received a ticket to sample the 14, which was somewhere towards the back of the bar.  The bartender pointed in the general direction, but we decided to search out an available table instead.  We saw one table that had empty seats but a tabletop filled with glasses, so we headed in its direction in hopes that it had been vacated.  As luck would have it, the table was taken; however, its occupier invited us to sit down, and he politely introduced himself to us – it was David Walker himself, owner of the famed Firestone Walker Brewing Company.  The giddy school-girl in me almost showed its face, but I kept my cool and dove into a conversation with David about his companies captivating barrel aged beers.
Walker explained that the goal of his brewing company's barrel aged and blending program is to create several different forms of high gravity, complex, oak-aged beers that can be blended together to achieve stellar and harmonious new flavors.  Just as I discovered from the brewmasters note in the Firestone Walker 14 box, those balanced and melodic flavors are acquired by the blending expertise of selected Paso Robles winemakers, thus creating the depth of character that I was currently discovering in the Firestone Walker 15 Anniversary Ale.
Firestone Walker 15 is a deep mahogany brown with a light tan creamy head.  Much like wine, this beer needed to be sniffed first, and a wave of aromas blasted from the glass: vanilla, wood, coconut, almond and bourbon.  The flavors came in waves, starting with vanilla extract, caramel and brandy and ending with an everlasting finish of intense toasted oak, chocolate and toffee.  This brew had rhythm.
Walker continued with an overview of the eight different beers that were blended to create this symphonic brew:
Helldorado – a blonde barley wine aged in bourbon barrels and brandy barrels
Sticky Monkey – an English barley wine, also aged in bourbon and brandy barrels
Bravo – also aged in bourbon and brandy barrels, this is an Imperial Brown Ale
Double Double Barrel Ale – a double strength English Pale Ale that was aged 100 percent in retired Firestone Union Barrels
Good Foot -an American barley wine aged in bourbon barrels
Velvet Merkin – a traditional oatmeal stout aged in bourbon barrels
Parabola – a Russian Imperial Oatmeal Stout aged in bourbon barrels
Double Jack – 100 percent Fresh-n-Hoppy, 100 percent stainless steel Double India Pale Ale
Each of the eight beers contribute different characteristics which achieve the unmatched, complex flavors found in this luscious brew.  Surprised that all beers blended were barrel aged except one, Walker retrieved a sample of the stainless steel Double India Pale Ale, Double Jack, so I could taste it along side the barrel aged Firestone Walker 15, and the contrast between the two were astounding.  Much like what a stainless steel white wine looks when placed next to an oak aged red wine, the Double Jack had a golden pale color, and it was much lighter on the palate.  Although the Double Jack was excellent, the countless characteristics found in the barrel aged Firestone Walker 15 continued to marvel my taste buds like none other.
Walker is devoted to his one-of-a-kind brewing company, and his level of knowledge and passion for barrel aged and blended beers was clearly impressive as he educated me on the art of brewing.  A trip to Paso Robles is no doubt in my near future, and I not only plan to visit the Firestone Walker Brewery, but I'd like to visit the wineries of the winemakers that participated in the blending session that created the incredibly distinctive and savory Firestone Walker 15. – (originally published in 2013)
A clear reminder of my love for barrel aged brews, my recent blissful experience with the latest of the Firestone Walker Anniversary Ales has me anxious for the next release, which has become an annual autumn rite at the brewery – October 2015 will be a tasty month.