Posted by juliac in Articles, Featured, In The Glass | 0 Comments
In The Glass: Winter's Hill Dry Rosé of Pinot Noir 2014
With summer-like weather for much of the month of April, and so far, May too, (a rare happening here in The Willamette Valley), Rosé has been pouring into my glass like the rain would normally be pouring into the valley.  It's been a spectacular couple of months of drinking one of my favorite styles of wine – all while accomplishing a bronze-ish glow on my skin that is quite unusual for spring in Oregon.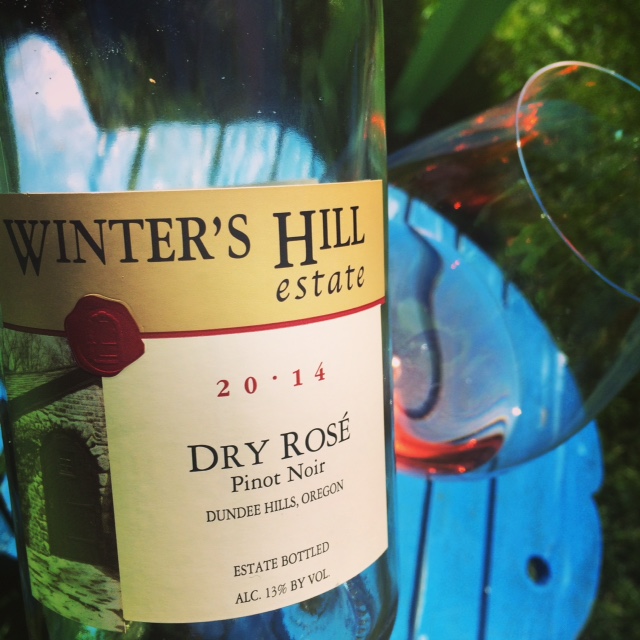 The summer-loving gal in me is enjoying every minute of sipping Rosé in the sunshine.  Whether it's just me and a good book, me and a good friend or me and my husband while watching our two boys playing in the back yard – life is good…and really delicious.
Late last summer, I experienced a super fantastic horizontal tasting of four single vineyard, single block, single clone 2012 Pinot Noirs from Winter's Hill that impressed me like none-other.  What a super special treat: to taste the terroir at Winter's Hill with such profound specificity, I'm excited to share this experience with my readers soon.  For now, I'm all about summer in spring, and sharing my insatiable need to drink and write about Rosé.  So being that I was so dazzled by Winter's Hill last summer, I was incomparably excited to recently open a box that contained a Pinot Blanc, Pinot Gris and a Dry Rosé of Pinot Noir.  The Rosé went straight into the fridge and then into my glass several hours later.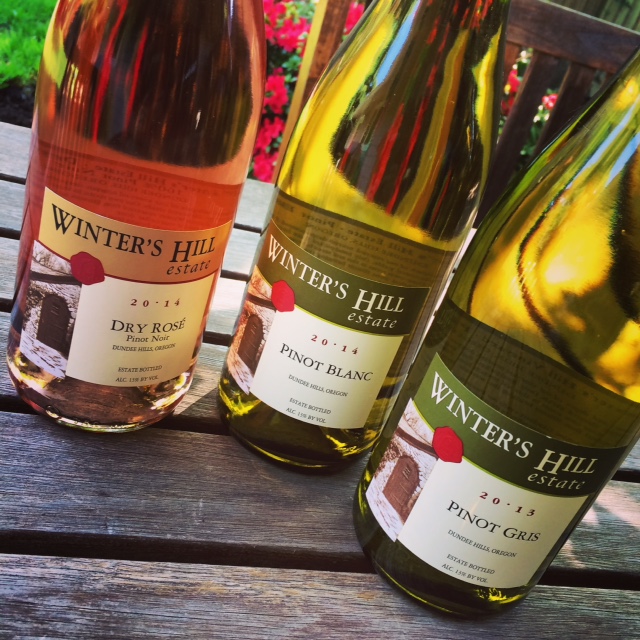 Winter's Hill Dry Rosé of Pinot Noir, vintage 2014, is super refreshing on a warm afternoon with intense aromas and flavors of strawberries, bing cherries, orange blossom and lime.  A juicy entrance with a burst of succulent fruits perfectly rounds out mid-palate with supremely vibrant and crisp acidity – leaving the palate perfectly refreshed and, without a doubt, wanting another sip.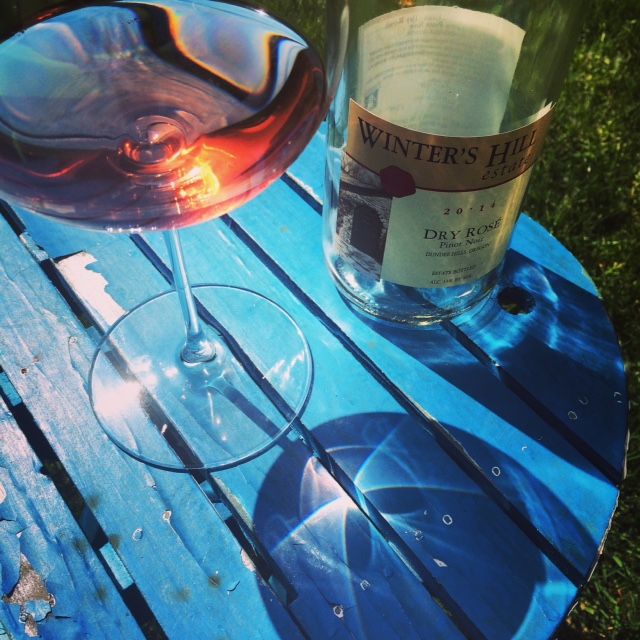 With such lucid and vibrant acidity, this wine is super food friendly and would be great with grilled salmon, and could definitely stand up to a zippy BBQ sauce.  But me, I was happy with it all on its own.  Shoes off, feet up, and soaking in the warm rays of the sunshine.  Those who know me well, know I'm picky about stemware, so I'm unable to conclude this piece without expressing that this beauty of a Rosé should be enjoyed in a Riedel Veritas Pinot Noir glass (read about these here); after all, it is a Rosé of Pinot Noir!
Established in 1961, Winter's Hill is located in Oregon's Dundee Hills AVA, a part of the larger Willamette Valley, where the Gladhart Family's third generation farms the land, manages the vineyard, makes the wine and greets visitors to their tasting room.  It's how we roll here in the Valley: incredible visionaries built foundations to last layers of generations, and it's all coming to fruition before our very eyes. 
*samples were provided for review purposes