Posted by juliac in Articles, Events, Featured | Comments Off on SIP McMinnville Wine & Food Classic Celebrates its Silver Anniversay March 9-11, 2018
SIP McMinnville Wine & Food Classic Celebrates its Silver Anniversay March 9-11, 2018
March 9-11, 2018, the much-loved SIP! McMinnville Wine & Food Classic will celebrate its 25th anniversary event.  This fundraising festival draws thousands of attendees from all over the country while supporting the small independent producers (SIP) of Oregon wine, beer, liquor, food and art.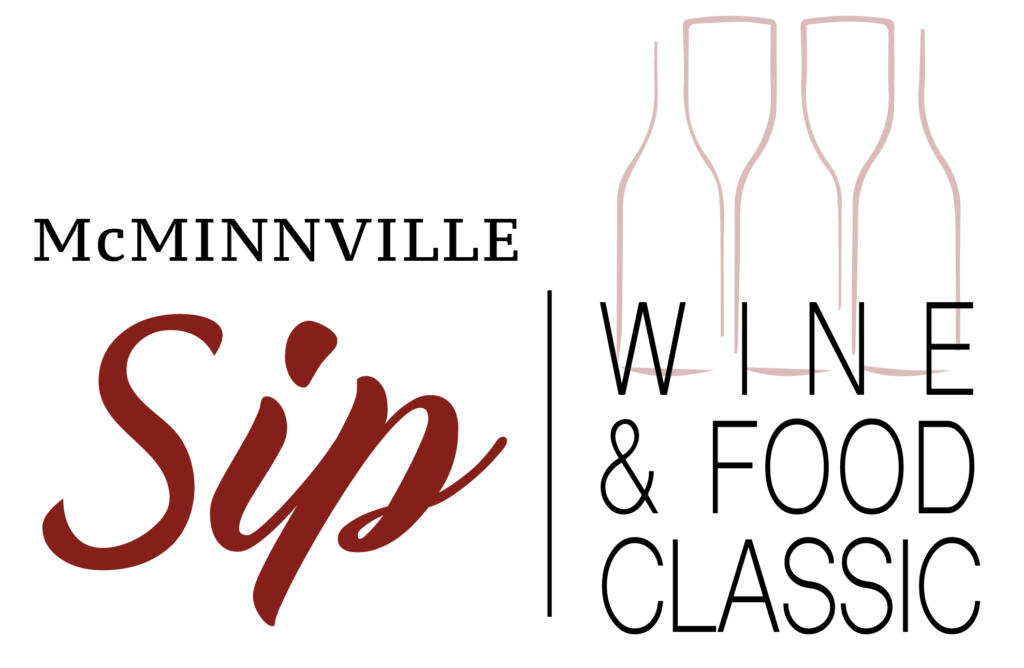 Taking place inside the highly respected Evergreen Aviation & Space Museum, approximately 170 vendors will be interspersed with the Titan II Missile, the SR-71 Blackbird and many other artifacts of the space age; such as, jets, missiles and displays from outer space missions.  With the owners and artisans on hand to showcase and share their craft, this three day event of tasting and toasting is a personal and convenient way to discover and celebrate Oregon's outstanding bounty.  "Everything about the event is centered upon having fun, and the venue is what really sets SIP apart," says this year's event co-chair Jon Johnson.
SIP began in 1993 as a small school fundraiser for St. James School.  Amazingly, SIP is now one of Oregon's largest and most-beloved food and wine festivals – while providing essential funding for the school (and it is organized and staffed entirely by volunteers).  St. James's Pastor, Father Michael Walker, says: "Thanks to so many good and generous people, the SIP McMinnville Wine & Food Classic does so much to support St. James School, while at the same time giving the Small Independent Producers the opportunity to share their craft with the region.  We very much rely on and appreciate the support from this great event!"
More than 25 food vendors, 18 artisans, 6 distilleries, and 70 wineries from all over Oregon plan to participate in this year's Silver Anniversary event.  Guests can enjoy their beverages with fresh oysters, crab and shrimp melts, barbecue, German grilled specialties, authentic tamales, and more. Local craftsmen will display jewelry, art and furniture – and there will be live performances by local musicians all three days.
SIP's founder, Steve Bernards, says: "It's incredible that what started 25 years ago as a small volunteer effort to help the local school has turned into a wine-lover's bucket list destination that supports not just the school, but the entire community in a big way."
TICKETS:
Special $15 Early Bird tickets are available until 1/31/2018: click here.
General Admission 1-Day Tickets are $20/person; Designated Driver and Senior Day Tickets are $17/person; kids 9 and under are free. Weekend Passes are also available for $36.
Attendees can purchase à la carte tastings from food and wine vendors to consume onsite and take home bottles and cases of wine with streamlined collection (orders are made available for pick-up at a valet counter) and transport systems (assistance on transportation to vehicle).
A judging panel will also award Gold, Silver, Bronze, and Best-in-Show medals to the top wines submitted for competition. Go behind the scenes of the 2018 wine judging competition with LUX: Photo Essays – Judging SIP! McMinnville Wine & Food Classic's Silver Anniversary: Behind the Scenes
Hours: Friday, March 9, 3-9pm; Saturday, March 10, 11am-8pm; Sunday, March 11, 12pm-5pm.
VIP Parking is available on-site for $7/car.  Free parking options also available.
Shuttle service operates from the Chemeketa College Parking lot. The trolley will run in front of Hotel Oregon on 3rd Street (3rd & Evans). Shuttle service begins 30 minutes prior to daily opening times at hotels in town.
The 25th Anniversary Wine Competition was held at St. James Church, in McMinnville, OR with Barking Frog's 2013 Sangiovese winning the Best of Show out of 118 wines that were submitted from 35 Wineries.
The panel of judges awarded a total of 58 medals – 10 Gold Medals, 18 Silver Medals, and 30 Bronze Medals.
Gold Medals
Barking Frog 2013 Sangiovese
Melrose Vineyards 2016 Estate Grown Sauvignon Blanc
Bradley Vineyards 2016 Riesling
Methven Family Vineyards 2015 Gamay Noir
Cardwell Hill Cellars 2014 Dijon Blocks Estate Bottled Pinot Noir
Hawkins Cellars 2014 Eola / Amity Hills Pinot Noir
Abacela 2015 Fiesta Tempranillo
Schultz 2013 "Shepherd" Syrah
Zerba Cellars 2014 Syrah
Abacela 2016 Muscat
Silver Medals
Season Cellars 2015 Viognier
Melrose Vineyards 2016 Estate Grown Pinot Gris
Barking Frog 2014 Pinot Noir Bailey
Cardwell Hill Cellars 2014 Monet Blocks Estate Bottled Pinot Noir
Melrose Vineyards 2014 Estate Grown Pinot Noir
Yamhill Valley Vineyards 2014 Pinot Noir Reserve
Cubanisimo Vineyards 2015 Estate Pinot Noir
David Hill 2015 Old Vine Pinot Noir
K&M 2015 Oregon Pinot Noir Beacon Hill Vineyard
Yamhill Valley Vineyards 2015 Pinot Noir Estate
Spangler Vineyards 2014 Cabernet Franc
Zerba Cellars 2014 Cabernet Sauvignon
Vino Vasai 2015 Cabernet Sauvignon
Spangler Vineyards 2014 Claret
Barking Frog 2013 Barbera
Abacela 2014 Tempranillo-Malbec "Fifty-Fifty"
Zerba Cellars 2014 Wild Z
August Cellars 2016 Sweet Riesling
Bronze Medals
K&M 2016 Oregon Chardonnay Alchemy Vineyard
Schultz 2014 "Mission" Viognier
Emerson Vineyards 2016 Viognier
Yamhill Valley Vineyards 2015 Pinot Blanc
Siltstone Wines 2016 Blacktail Pinot Gris
Abacela 2016 Albarino
Tesoaria Vineyard & Winery 2016 Bella Bianca
August Cellars 2014 Gewurtzaminer
Siltstone Wines 2011 Authentic Oregon Pinot Noir
J.L. Kiff Vineyard 2012 Pinot Noir
Silver Falls Vineyards 2012 Pinot Noir Reserve
Gelardi Vineyard 2014 Poco Collina
Methven Family Vineyards 2014 Stinger Pinot Noir
Bradley Vineyards 2015 Pinot Noir Willamette Valley
Emerson Vineyards 2015 Pinot Noir Willamette Valley
K&M 2016 Oregon Pinot Noir Alchemy Vineyard
Melrose Vineyards 2011 Estate Grown Merlot
Schultz 2013 "Blessed" Merlot
Hawkins Cellars 2014 Cabernet Sauvignon
Spangler Vineyards 2013 Malbec
Purple Cow 2011 Tempranillo Reserve
Tesoaria Vineyard & Winery 2015 Tempranillo
Tesoaria Vineyard & Winery 2014 Barbera
Pinot Vista Vineyard 2015 Naked Grape Vineyard Barbera
Tesoaria Vineyard & Winery 2015 Petite Sirah
Season Cellars 2013 Syrah
Barking Frog 2015 Syrah
Tesoaria Vineyard & Winery Eponyme
Hawkins Cellars 2014 Caldera Red
Purple Cow 2012 Marechal Foch